Advertisement:
Last month, we had got news from trusted sources that Misbah ul Haq had applied for the coach for Pakistan cricket team. And today, PCB has elected Misbah as the head coach and chairman of selectors of Pakistan. Waqar Younis is doing his job wonderfully as bowling coach, Misbah and Waqar will serve for their positions for a three-year cycle.

Also Check: Hotstar to show live cricket matches online in 2019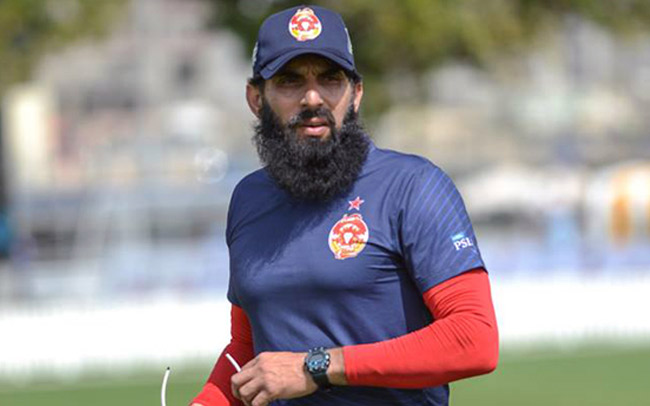 Who were selectors?
The selection process for both Misbah and Younis were done by a 5 member panel consisting of Intikhab Alam (former captain), Bazid Khan (former cricket), Asad Ali Khan (Member of the Board of Governors), Wasim Khan (Chief Executive, PCB) and Zakir Khan (Director – International Cricket).
Advertisement:
What Misbah said?
After his election as head coach Misbah said, "It is very humbling for me to join a select group of some of the very best to have coached the Pakistan national sides in the past. It is an honor and more than that, a massive responsibility as we live and breathe cricket,".
"I know expectations are high, but I am absolutely ready and up for the task, otherwise I would not have thrown my name in the hat for one of the most challenging and coveted roles in Pakistan cricket."
Also Check: Star Sports Latest Cricket Updates
Misbah acknowledged one of the agendas of his coaching tenure will be a change in the team culture. "We have some of the most talented and exciting cricketers, and I will like to help them train and prepare in such a way that they can play intelligently, smartly and fearlessly. I am aware this will require a change in the dressing room culture but if we have to compete consistently at the highest level, we have to embrace these modern-day requirements," he pointed out.
"We need to understand this is a performance-oriented world and only those Pakistan players have thrived in the past who have taken the pride in donning the star and crest on their chests by delivering every time they have stepped on to the field. That's the way I have played my cricket all through my career and this will not change in my new role.
"I am excited to once again have someone as experienced and knowledgeable as Waqar Younis in my corner as a bowling coach. We have exciting young fast bowlers in our ranks and there is no better person than Waqar to transform them into modern-day stars. Both Waqar and I had a candid and frank discussion and we discussed and agreed on a number of things, including roles and responsibilities as well as how to take things forward."
Don't Miss: Mylivecricket (Live cricket updates in 2019)
Both Misbah and Waqar have worked for Pakistan cricket team for the vital roles. Waqar was appointed as bowling coach in 2006. Waqar was the head coach in 2016 T20 Cricket world cup.
Before appointment as head coach, Misbah was part of Pak Cricket Committee. After the world cup exit in 2019, he had resigned from his position and had applied for the head coach.
The first assignment for the Misbah and Waqar as head coach and bowling coach will be the home series against Sri Lanka where the two sides will play three ODIs and three T20Is beginning from 27th September 2019.
Keep checking Mobilecric for more latest updates for Pakistan cricket team.